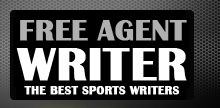 Yankee Addicts
Categories
Featured Sponsors
News published by
June 10, 2010
It's almost that time again. The draft picks are in and the free agents are signed. In six weeks, camps will open for the 2010 season. So as the unemployed ...
June 6, 2010
The 2010 Atlanta Falcons will open camp next month with 21 of 22 offensive, and defensive starters from last season still on the roster.  The lone exception is Chris Houston, ...
May 29, 2010
The Atlanta Falcons achieved their first back-to-back winning seasons in 2009, ending a franchise-long "curse" as it had been perceived by followers of the franchise. While the fans were happy to ...