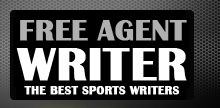 Yankee Addicts
Categories
Featured Sponsors
News published by
August 16, 2010
The Brian Westbrook Watch finally comes to an end as ESPN reports that the San Francisco 49ers, not the Rams, came to terms with the veteran running back. Rumors had ...
August 14, 2010
The first preseason game is in the books with the Atlanta Falcons besting the Kansas City Chiefs, 20-10, at the Georgia Dome last night. Although there were plenty ...
August 11, 2010
It only seems like yesterday that Atlanta Falcons fans waited with baited breath on their heralded but largely unknown free agent running back Michael Turner. The longtime backup in San ...
June 4, 2010
When surveying the NFL 4-3 defensive landscape, one will undoubtedly encounter odd monikers, nicknames, and titles such as "Over," "Under," and "Stack." And while these terms may or may not ...
May 28, 2010
The Seattle Seahawks surprisingly released Lendale White on Friday, despite the lack of a power running back. White runs with a punishing style, and played well in a two back ...
May 28, 2010
The Atlanta Falcons come into the 2010 season riding a wave of optimism, despite missing the playoffs last year. After finally posting back-to-back winning seasons, and with several key components ...
May 25, 2010
Speculation and rumors continue to run rampant as the June 1st signing deadline approaches and Oshiomogho Atogwe continues to work out in the Bay Area. Atogwe and the Rams seem ...
May 24, 2010
The NFC South has been a fickle beast in the last six years, with surprise winners and a penchant for the unpredictable. The Saints as returning Super Bowl Champions and ...
May 21, 2010
Supply and demand is perhaps one of the most fundamental concepts of economics as well as NFL free agency. Demand refers to how much of a product is desired, or in ...
April 28, 2010
Tuesday reports surfaced from Michael Silver of Yahoo.com of Miami Dolphins GM Jeff Ireland asking Dallas Cowboys receiver Dez Bryant if his mother was a prostitute in a predraft interview. ...