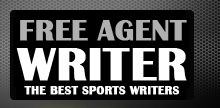 Yankee Addicts
Categories
Featured Sponsors
News published by
May 3, 2010
Philadelphia Eagles owner Jeffrey Lurie today announced that the Eagles will celebrate the 50th anniversary of the 1960 NFL championship team during their home opener on Sept. 12, 2010 against ...
May 1, 2010
In 1960 the Philadelphia Eagles capped a 10-2 season by beating the Green Bay Packers 17-13 in the NFL Title game. It wasn't the last NFL Championship game the Eagles ...
April 6, 2010
After spending the last three years as understudy to recently traded Eagles quarterback Donovan McNabb, Kevin Kolb is about to take over the reins of the Philadelphia offense. "I was obviously ...
April 2, 2010
  Remember when the Philadelphia Eagles had one of the best defensive backfields in the NFL, with the likes of Brian Dawkins, Sheldon Brown, Lito Sheppard, and Michael Lewis? Every one of ...