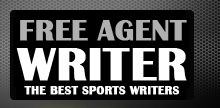 Yankee Addicts
Categories
Featured Sponsors
News published by
January 7, 2015
The San Francisco 49ers are still in search of a replacement for enigmatic head coach Jim Harbaugh. Of course, they had the right guy all along, but let's leave the ...
December 24, 2014
The San Francisco 49ers' 38-35 defeat to the San Diego Chargers gave you a little bit of everything. We witnessed the 49ers' patented smashmouth brand of football, which has led ...
November 5, 2014
After such a disappointing loss to the St. Louis Rams last Sunday, I doubt anyone cares about midseason awards. At 4-4, the San Francisco 49ers are fighting for their playoff ...
October 1, 2014
The San Francisco 49ers found themselves last Sunday in their 26-21 victory over the Philadelphia Eagles. It wasn't pretty, but the 49ers ended their ugly two-game losing streak.  A 2-2 start ...
February 26, 2014
Every NFL draft tends to have a theme. Last season, it was the year of the offensive lineman. In 2014, the throne goes to the receivers and defensive backs. Luckily for ...
February 19, 2014
In 2015, core players like Colin Kaepernick and Aldon Smith will be expecting shiny new deals for their help in turning the San Francisco 49ers into perennial contenders. Heck, don't be ...
December 18, 2013
The San Francisco 49ers (10-4) are in prime position to once again compete for an NFL championship. That elusive sixth championship would tie the 49ers with the Pittsburgh Steelers for ...
November 13, 2013
The San Francisco 49ers' disappointing loss to the Carolina Panthers in Week 10 halted their five-game win streak, and it begs the question: Should the 49ers still be considered Super ...
August 28, 2013
NFL teams were given a 4 p.m. ET deadline to trim their roster to a maximum of 75 players. Of course, this is only the first round of cuts before ...
July 10, 2013
During the boring parts of the offseason, NFL fans tend to cling to any story relating to their favorite teams.The topic could have something to do with the hat of ...