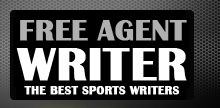 Yankee Addicts
Categories
Featured Sponsors
News published by
December 28, 2010
A telling number in correlation to the success of an NFL team is turnover margin. Winning teams take care of the football, and create scoring opportunities by stealing possession from ...
August 16, 2010
The scheduled slate of preseason games are now in full swing.  With the exception of tonight's Monday night game, the second week is complete.  Quarterbacks Sam Bradford, and Tim Tebow ...
July 16, 2010
With all due respect to Charles Woodson, Champ Bailey, and Asante Samuel, the NFL is currently blessed with an abundance of young cornerbacks. Analyzing passes defended, tackles, and ...
July 13, 2010
Every fan enjoys a big offensive play. And every coach and player strives to gain yards in big chunks, and score quick touchdowns. Doubters would argue the effectiveness of ...
July 12, 2010
Much like a strong financial investment, you want a strong return for every dollar you spend. These running backs have proven they will provide the best return each time ...
July 1, 2010
Everyone remembers a winner. Everyone remembers a quarterback with charisma, records, and big markets to showcase their talents.  Everyone remembers Dan Marino, Joe Montana, John Elway, and Brett Favre.  While ...
June 24, 2010
It has been thirteen years since Steve Tasker hung up his cleats and walked into retirement.  Tasker's role for the Buffalo Bills is a position of the past, a pure ...
June 4, 2010
  The legacy of Herschel Walker needs remembered.  The powerful running back dominated at every level, and should be considered for the NFL Hall of Fame. During the Dallas Cowboy dynasty ...