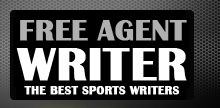 Yankee Addicts
Categories
Featured Sponsors
News published by
April 28, 2010
I know its a bit late, but I've been busy, and I like to wait for all the immediate post draft hype to calm down before a sit down and ...
March 31, 2010
I never like doing multiple mock drafts. I like to make one, and then be done with it. I think free agency has calmed down enough that I can make ...
March 22, 2010
With free agency ending and the draft coming up, I found myself with many comments I wanted to express, but not many I felt I could write a whole article ...
March 16, 2010
After a surprisingly low-key free agency, the Redskins are now ready to tackle the next major step of the off-season, the draft. The Redskins approach towards free agency shows that the ...
March 9, 2010
OK, technically the era is not over. Snyder still is the owner of the Redskins, but this is defiantly the end of an era. It may be a little premature, but ...
March 4, 2010
I heard this rumor on the Internet and in the newspaper, and I felt that it was my duty as a Redskins fan to rant about what could be an ...
January 9, 2010
As a Redskins fan on Bleacher Report, I felt obligated to write something about Mike Shanahan. I personally think this can be the best opportunity we've had since Dan Snyder ...