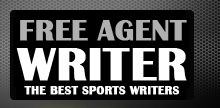 Yankee Addicts
Categories
Featured Sponsors
News published by
July 21, 2010
While 2009 wasn't exactly what most thought it'd be for the Bears, they ended it on a positive note, winning the final two chapters of a long roller-coaster story. Over ...
June 23, 2010
A much bally-hooed about group, the Bears receivers don't have one consensus media opinion. While some analysts say the Bears receivers are the weakest group on the team, other feel they ...
June 11, 2010
Every year, there are games in the National Football League that engrave themselves into the memories of NFL fans. Viewers who witnessed the Colts comeback against the Patriots on Sunday ...
March 31, 2010
Jimmy Clausen is one of the more polarizing prospects I've seen in awhile. He could find himself landing anywhere in the top 10; the Rams, Redskins, Seahawks, Browns, Raiders, Bills, or ...
March 31, 2010
This is one of the most promising defensive back classes to come along in years. With seven projected first rounders, along with the best defensive back prospect to come along ...
February 15, 2010
The NFL Draft can be a confusing thing. It's a crapshoot; there's no guarantee that the player you feel is a savior really ends up being the Messiah for your ...