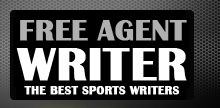 Yankee Addicts
Categories
Featured Sponsors
News published by
June 15, 2013
For much of the past decade, the Tennessee Titans have attempted to build their roster around a strong, physical defense that had the ability to set the tone early.While those ...
October 7, 2012
Every week, fantasy owners across the country curse themselves for leaving valuable points sitting on their benchWhile that doesn't necessarily mean you should rush to bench the stars that have ...
August 11, 2012
Every season, a rookie explodes onto the scene and establishes himself as an elite fantasy football option. From Adrian Peterson in 2007 to Cam Newton in 2011, identifying which young ...
August 8, 2012
In a league with fewer and fewer workhorses, finding a running back that will carry most of the load for his team is more difficult than ever before. Though the ...
August 5, 2012
Every season, players taken in the seventh round or later prove to be the difference between a .500 team and one that makes a run towards a fantasy championship.For the ...