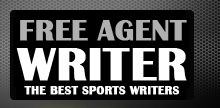 Yankee Addicts
Categories
Featured Sponsors
News published by
December 14, 2015
The NFL season is winding down, but daily fantasy football is still cranking out winners heading into Week 15. DraftKings owners still have three weeks before the playoffs begin to ...
December 7, 2015
While the fantasy playoffs are beginning in most traditional leagues, every week is like the postseason in daily fantasy football. Whether you're in your standard playoffs or in the consolation ...
November 2, 2015
Looking to get ahead in daily fantasy football for Week 9 of the NFL season? The key is starting early in the process, crunching the numbers and processing matchups to ...
October 16, 2015
Daily fantasy football just keeps rolling along at DraftKings, with Week 6 of the NFL season kicking off on Thursday night. For owners who haven't quite finalized their picks for ...
October 9, 2015
The quarter pole of the season has already come and gone for nearly every NFL team, and daily fantasy football owners are rounding into form. With players priced appropriately on ...
September 25, 2015
It's almost that time again, daily fantasy football fans. Sure, the Week 3 action started on Thursday night, but the full slate taking place on Sunday is enough to make ...
September 18, 2015
One week down, 16 more to go. It was a phenomenal week for some—hello, tight ends!—and one to forget for others—13 touches for Adrian Peterson? In the first edition of a ...
September 18, 2015
Take everything you thought you knew about daily fantasy football before Week 1 and simply throw it out the window. OK, maybe not that extreme, but a lot has changed ...
September 11, 2015
The first game of the 2015 NFL season is in the books. Never fear, football fans, there are 15 more for daily fantasy football players to pick apart on the ...
March 31, 2015
It's so close you can almost taste it. The start of the 2015 NFL draft is less than a month away, which means scouts and general managers everywhere are doing ...