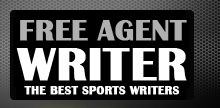 Yankee Addicts
Categories
Featured Sponsors
News published by RaiderusMax
July 9, 2011
The Oakland Raiders had some spectacular catches last season, and the wide receiving corp stepped up to win a few games.However, it was also obvious that the wide receivers were inconsistent. Simple passes dropped ...
May 21, 2011
Recently word has spread about the four day (Tuesday-Friday) Oakland Raiders camp sponsored by defensive tackle Richard Seymour, who sent out an invitations to all the Oakland Raider players in ...
April 18, 2011
JaMarcus Russell, worst QB to ever grace the gridiron, and yet, one of, if not the highest paid, first-rounder by the Oakland Raiders. The Oakland Raiders could have chosen a ...
April 7, 2011
 Last season the legendary Oakland Raiders stepped their game up a notch and worked towards their former greatness as they took the AFC West with a perfect 6-0 record. The ...
April 5, 2011
Pure adrenaline and excitement! That sentence describes the Oakland Raiders newest weapon on defense. The Raiders rookie MLB Rolando McClain was a thrill to watch everytime he set cleat to ...
March 22, 2011
It wasn't too long ago that the Oakland Raiders defeated the Denver Broncos, 59-14, in an astonishing blowout that left the Denver stadium filled with crying fans. It was a ...
March 14, 2011
The Oakland Raiders have made some very impressive signings. Signing CB Rod Woodson to head the CB core is a great move for the Silver and Black; hiring coaches Hue Jackson, ...
February 10, 2011
The Oakland Raiders have definitely got something up there sleeve for the upcoming 2011 football season and it looks like success! Recently the Oakland Raiders released Tom Cable in favor ...
February 3, 2011
 The football season may be over for the Oakland Raiders players however Silver and Black management alongside owner Al Davis are still working on making the team even better than ...
January 8, 2011
"I can't go through another head coach." The above comment was made by Oakland Raiders Hall of Fame kicker, Shane Lechler. Shane Lechler has already played under six head coaches in a ...