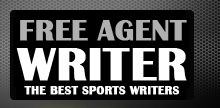 Yankee Addicts
Categories
Featured Sponsors
News published by
December 24, 2014
It was like deja vu. The New England Patriots quarterback escaped a crumbling pocket. He ran to his right, toward the sideline. Just before stepping out of bounds, he's popped ...
October 12, 2014
The New England Patriots may have realized that James Develin is underutilized. According to The Boston Globe, Develin's snaps had decreased since Week 2 to a season low of nine ...
September 28, 2014
While the offense has struggled in 2014, the defense is off to a great start. After three games the New Englad Patriots are third in yards allowed (272.7), first in ...
May 2, 2014
1. Houston Texans: DE Jadeveon Clowney, South Carolina Texans general manager Rick Smith continues to say Houston is willing to trade this pick. But is it the best move to pass ...
February 19, 2014
Signed: Dont'a Hightower, Jerod Mayo, Jamie Collins, Steve Beauharnais, Ja'Gared Davis, Chris White Free Agents: Brandon Spikes, Dane Fletcher How can anyone not love Brandon Spikes? He's a throwback linebacker that relishes ...
February 12, 2014
Signed: Danny Amendola, Aaron Dobson, Kenbrell Thompkins, Josh Boyce, Matthew Slater, Mark Harrison, T.J. Moe Free Agents: Julian Edelman, Austin Collie "Those that fail to learn from history are doomed to repeat ...
November 13, 2013
It was the fourth quarter between the New England Patriots and Pittsburgh Steelers, 1st-and-10 on New England's 19-yard line. Aaron Dobson lined up along the left sideline. He noticed the alignment ...
September 18, 2013
"We like to say that dependability is more important than ability," --Bill Belichick, Sept. 13 That was Belichick before the season opener telling the media a virtue he values in his ...
September 11, 2013
Coach Bill Belichick's view on defense is simple. What really matters to him is scoring more points than the opponent and winning the turnover battle. In those two categories, New ...
May 19, 2013
Ron Brace, Myron Pryor, Brandon Deaderick and Kyle Love were released this offseason by the New England Patriots. All played defensive tackle—the position at the heart of the first line ...