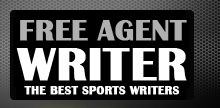 Yankee Addicts
Categories
Featured Sponsors
News published by
April 20, 2013
Florida State once again has a draft class that has a little bit of everything.The Seminoles are just one of those programs that continues to produce elite NFL talent regardless ...
April 29, 2012
Just because you're not drafted in the NFL draft doesn't mean that you can't make a career for yourself at the next level. Now that the 2012 NFL draft is ...
February 26, 2012
The Miami Dolphins have an extremely talented team, but there remain questions at the quarterback position. Ever since Dan Marino faded off into the sunset, it has haunted this franchise ...
June 25, 2011
The Tennessee Titans finished with a 6-10 record after losing eight of their last nine games of the season in 2010.With a new head coach in Mike Munchak and a ...