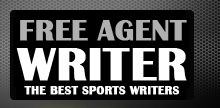 Yankee Addicts
Categories
Featured Sponsors
News published by
August 13, 2013
The Philadelphia Eagles franchise has been blessed with some of the best football players of all time. Guys like Steve Van Buren, Brian Dawkins, Reggie White, Eric Allen, Terrell Owens, ...
July 3, 2013
The strength of the Philadelphia Eagles lies right in the backfield. The Eagles can go four deep at running back without a major drop-off. They appear to be bringing in ...
June 21, 2013
Philadelphia Eagles fans wanted a change after the Andy Reid regime failed to deliver a Super Bowl after 14 seasons.Change is what they got, from a slow-tempo offense that attacked ...
September 26, 2012
The Philadelphia Eagles might be the worst 2-1 team in the NFL based solely on popular opinion. They started out OK with two one-point wins over the Baltimore Ravens and ...
September 23, 2012
In maybe the most interesting matchup of this weekend, the Philadelphia Eagles travel to the desert to face the Arizona Cardinals. The Cardinals have one of the top defenses, but ...
September 12, 2012
There are a lot of questions remaining for the Philadelphia Eagles after barely surviving the lowly Cleveland Browns 17-16. The Eagles came in as heavy favorites with Super Bowl aspirations ...
August 29, 2012
The Philadelphia Eagles are one win away from going undefeated in preseason. What does that really mean?Well, before the Lions went winless in the regular season, they went undefeated in the ...
August 15, 2012
Every team's best cover corner should cover every opponents best receiver, right?It just makes sense. Put your best against their best. But what do you do if their best receiver ...
July 31, 2012
Training camp at Lehigh University is now in full gear for the Philadelphia Eagles. The pads have come on, and we are starting to see some of the players separating ...
July 18, 2012
Last season, LeSean McCoy was the player that made the greatest leap from 2011 to 2012. He was already known as a good player in this league, but in 2012 ...