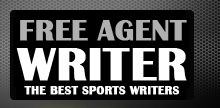 Yankee Addicts
Categories
Featured Sponsors
News published by
August 13, 2011
Some old coach said one time there are porch dogs and hunting dogs. Can't remember where I read it anymore. He said you win championships with the hunting dogs. New Orleans Saints head coach ...
February 9, 2011
Sean Payton ceases to love New Orleans? Hitches his float to a Dallas star? Au contraire says the New Orleans Saints head man. No, he's not going to the Cowboys. No, he's not separating ...
January 7, 2011
Seattle Seahawks QB Matt Hasselbeck ripped the Saints defense for 366 yards passing in a losing effort the last time these two teams played, in late November at the Superdome. And ...
January 6, 2011
Gather 'round Saints fans for a story that may give you hope in these trying times: It would be a romantic, made-for-Hollywood story to say the 2007 New York Giants knew ...
January 4, 2011
Will the Seattle Seahawks beat the New Orleans Saints? Forty-seven percent of respondents to a Seattle Times poll think the Seahawks, despite their 7-9 record, will do just that. Guess ...
December 28, 2010
It has been a one hell of a year for New Orleans Saints QB Drew Brees. He was the Super Bowl MVP in February. The Sports Illustrated cover shot of him holding ...
December 27, 2010
Hatred strikes me as one of the few signs of life remaining in the world. This is another thing about the world which is upside-down: all the friendly and likable ...
December 17, 2010
The Saints are on a six-game winning streak and yet there is no time to enjoy it in New Orleans. A famous writer, Norman Mailer, said once that the thing you ...
December 15, 2010
Daddy used to say 90 percent of life and success was just showing your face—at meetings and weddings and funerals, etc. He said, "Son, you can achieve success beyond your wildest ...
November 22, 2010
And you wonder why NFL coaches and players hate kickers? You need look no further than yesterday's Saints-Seattle game for the reasons why. In 2007, Olindo Mare made only 10-of-17 field goal ...