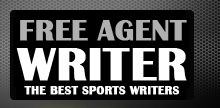 Yankee Addicts
Categories
Featured Sponsors
News published by
May 20, 2011
Tailgating is one of the most indelible marks in football since the inception of the game. So what better way to build a short little slideshow than to highlight the ...
April 10, 2011
Boy oh boy! If the Minnesota Vikings aren't stealing the show in speculative draft talk—hopefully they are, and I have something to do with it—then they sure are right up ...
April 6, 2011
The later rounds of the NFL Draft have been a wonderful mine of hidden gems over the past 10 years.Players such as Tom Brady, Terrell Davis, Harold Jackson, Shannon Sharp ...
March 20, 2011
Cameron Jordan is not only one of the top ranked defensive lineman the 2011 NFL Draft has to offer, he also is the only one with a tie to the ...
January 14, 2011
As we saw in the NFC breakdown, the rematch events prove to be intriguing, but as the AFC will show, the rubber match between heated rivals show a different side ...
January 14, 2011
Round 2 of the playoffs start this Saturday with a full head of steam, and enough headlines to keep any reader dizzy and steeped in pure speculation. But the real ...
December 2, 2010
I don't think there is a football fan or fantasy fan alive who doesn't like game previews and predictions, so why not combine both ideas into one singularity, right? Well, ...
December 1, 2010
The 2010 NFL season has been downright abysmal for Brett Favre and the Minnesota Vikings. From day one, the future Hall of Famer has been dogged by injuries, inconsistencies, and ...
November 27, 2010
According to The Denver Post, the NFL is investigating whether a Broncos employee videotaped a San Francisco 49ers walk-through at London's Wembley Stadium four weeks ago. And here we are folks, ...
November 25, 2010
A lot of thanks and praise will be given by fantasy owners after Week 12, when they realize that Nate Washington and Calvin Johnson top the charts. And while it is ...