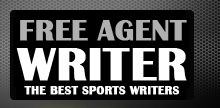 Yankee Addicts
Categories
Featured Sponsors
News published by
February 11, 2011
In the NFL, it's extremely rare to credit one player with revolutionizing their position. Shannon Sharpe did just that. He revolutionized the tight end position by becoming a valuable pass-catching threat. Yes, ...
February 8, 2011
Last week, the Broncos' ex-quarterback was talking about Denver's quarterback of the future, and what was said was somewhat surprising. John Elway, crowned as the smiling head atop the Broncos' front ...
January 14, 2011
The coaching search has ended in Denver, as the Broncos announced today at 2 p.m. MT that they have hired John Fox. John (Elway) hired John (Fox) in an intelligent football ...
January 7, 2011
In Broncos history, 2010 was a year to forget but never be forgotten. Denver's football franchise fell further (and harder) than a boulder breaking off Pike's Peak. Practically the only ...
December 7, 2010
Just in at 4:20 p.m. MT on this Monday afternoon, Josh McDaniels has been "relieved of head coaching duties," a nice way to say, "We fired our head coach because ...
October 24, 2010
With 6:31 seconds remaining in the third quarter and Denver down 45-14, the Broncos were facing a second-and-28. Kyle Orton dropped back into his own end zone, threw the ball ...
October 20, 2010
The Denver Broncos, who are now tied at the bottom of the AFC's worst West division, have shown growth so far in 2010. I know you're thinking, "How can a team ...
October 8, 2010
Brett Favre is in the news again, and no, it's not about whether or not he will retire. By now, you've all heard about Brett Favre's new nickname—"The Old Dongslinger" (coined ...
September 13, 2010
Making it into the Hall of Fame is a great gauge of how well an individual played throughout his career. It also can be a measuring stick by which an ...
September 2, 2010
OK, it's still only the preseason. It's easy to glorify certain performances on the field. But the Broncos, who are fresh off soundly defeating the Pittsburgh Steelers 34-17, performed well ...