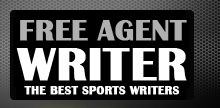 Yankee Addicts
Categories
Featured Sponsors
News published by
May 13, 2014
With a strong 2014 draft class, the entire NFL is now more talented, but that doesn't mean every team will be better next season because of it.  For instance, there are ...
May 13, 2014
The majority of undrafted free agents who sign with NFL teams will fail to stick in the league. Some of these guys, however, will make it and will make an ...
April 29, 2014
The NFL draft is always surrounded by mystery and misinformation. That is as true as ever this year.  There's plenty of rumors floating around that shed clues as to how this ...
April 5, 2014
In a talented 2014 draft class, a host of players are getting ready to enter the NFL and have long, fruitful careers. While judging which players will have the most successful ...
April 1, 2014
In a deep draft that lacks a clear No. 1 choice, the NFL's May extravaganza is likely going to be one surprise after another.  The deep talent pools make trading down ...
March 15, 2014
With a flood of misinformation floating from teams in an attempt to manipulate the value of their pick, it is tough to identify a direction for the 2014 NFL draft. Quarterback-needy ...
March 12, 2014
Wide receiver Hakeem Nicks has the kind of ability that could lead to a premium contract for a wide receiver in the NFL. Coming off of two injury-plagued seasons, however, ...
March 11, 2014
Free agency got off to a flying start as NFL teams locked up plenty of big-name players on Tuesday, the first day of the signing period. The flurry of activity was ...
March 8, 2014
There is not a lot of talent in the free-agent quarterback market. This isn't out of the ordinary. Teams don't let talented quarterbacks get away.  Still, there are some competent signal-callers ...
February 5, 2014
The streets of Seattle will be rocking on Wednesday, Feb. 5 as the championship-starved city lets loose in celebration over the Seahawks capturing the Lombardi Trophy.  For a city that hadn't won ...