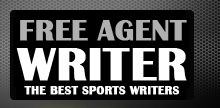 Yankee Addicts
Categories
Featured Sponsors
News published by
September 10, 2011
I'll let you in on a secret. I have a beef with the Miami Dolphins side of 1972, but it isn't the one you think it is. You see, I ...
February 14, 2011
The purpose of Not the NFL Hall of Fame is to highlight players who are not in the Hall of Fame proper, but who would be if the 44 voters ...
January 30, 2011
Is there a more meaningless contest in professional sport than the Pro Bowl? As an exercise in utter pointlessness, it appears to be without equal. And now, thanks to the ...
January 23, 2011
When your most effective offensive player is your third-string quarterback and your opponent's winning touchdown is scored on an interception run by one of the heaviest men in the NFL, ...
January 21, 2011
Take a casual stroll through the murky backwaters of the betting exchanges and you'll discover one surprising fact about this weekend's Conference Championships. Just about everyone—and I mean just about everyone—now ...
January 19, 2011
It's been a couple of days since the Patriots' season ended in that surprise defeat to the Jets, and yet one thing has been playing on my mind more than ...
January 16, 2011
The Patriots playing in the postseason is becoming a bit of a cliche. And it is hard to think of anything original to hope for without being really harsh and ...
January 16, 2011
In a weekend of pedigree matches, this one is the runt of the litter. Seattle, the first side in modern history to win a division with a less than .500 ...