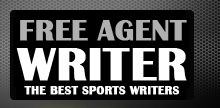 Yankee Addicts
Categories
Featured Sponsors
News published by
August 21, 2011
Final Score: Houston 27 - New Orleans 14The Saints played like they wanted to win the game, the Texans played better. Houston is looking to regain itself and to find its ...
August 21, 2011
It has been apparent, perhaps throughout the game, that the Texans have depth on their defense. Coming off a poor season last year this team is a vast improvement. They ...
August 20, 2011
Last year's preseason game against the New Orleans Saints, in the Superdome, was disappointing for the Houston Texans.They were torched not only by Saints starting QB Drew Brees for two ...
December 24, 2010
Houston Texans wide receiver Andre Johnson was on pace to set an NFL record with three consecutive seasons of 1,500 or more yards receiving, but a recent MRI may place ...
December 24, 2010
For most of the 2010 season the Houston Texans defense has been analyzed, scrutinized, and criticized by fans and sports announcers around the country. They have been quick to point ...
December 22, 2010
The 2011 Pro Bowl is just around the corner and the fans' ballots have been counted. The following players are the fan's choices for the AFC in this year's game.While ...
December 22, 2010
Do you remember the year in which the Branch Davidian compound was raided in Waco, Texas? How about the year Eric Clapton's song "Tears in Heaven" won song of the ...