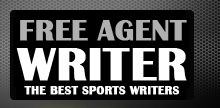 Yankee Addicts
Categories
Featured Sponsors
News published by
January 12, 2011
As everyone in Pantherland now knows, the Panthers' new head coach is the Chargers' former defensive coordinator Ron Rivera.  Rivera signed a league average, four year deal worth just over $11 ...
January 11, 2011
The last time sports fans saw a player-coach who was anywhere near as heavy as Rex Ryan actually play in a game was when Pete Rose led the Reds into ...
September 26, 2010
Instead of breaking down the "X's" and "O's" right before a very tough home game for the Carolina Panthers this Sunday, I looked at some present needs the team has. ...
September 12, 2010
Just nine months ago, the Carolina Panthers traveled to the former home of the New York Giants and were the last opponents the Giants would ever see in their old ...
August 21, 2010
If you are a football fan and have been anywhere near a television with ESPN or the NFL Network on, or if you have listened to much sports talk radio, ...
August 11, 2010
Well the time has finally come.  The real hitting starts Thursday night.  Both the Ravens and Panthers are—to some extent—riddled with injuries to begin their preseason kickoff. Looking at both teams, ...
June 11, 2010
Just a few months ago, the Carolina Panthers made a surprise deal. The team decided to trade one of their two main defensive leaders—safety Chris Harris—to the Chicago Bears.  The deal ...