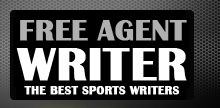 Yankee Addicts
Categories
Featured Sponsors
News published by
December 25, 2012
Snagging a first-round bye in the NFL playoffs is both a blessing and a curse.While it affords teams an extra week to prepare, gives players an additional week to rest ...
November 30, 2012
Sidelined since the second quarter of Oakland's Week 9 loss to the Tampa Bay Buccaneers with a leg injury, it looks like dynamic running back Darren McFadden will be back ...
November 24, 2012
Reviewing how the NFL handles reviews of action of the field needs to end—and action off of the field must be taken.Now.Multiple sources, including CBS Sports, report that the NFL ...
October 13, 2012
He's banged up, he's whining to the press and he's in your fantasy doghouse.But Jermichael Finley can still help your fantasy squad in 2012.For a player who claims to have ...
September 8, 2012
When drafting in fantasy football, acquiring your starting running back's primary backup is always an important move to make—especially when that starter has a history of injuries and you already ...
September 8, 2012
There's no question that every roster spot on your fantasy squad is precious, especially if you don't have an injured reserve spot in which to stash players who are not ...
August 18, 2012
I can understand why you would pass on Peyton Manning in your fantasy draft.He's 36 years old. He's undergone four neck surgeries in the past two years. He didn't play ...