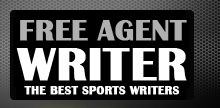 Yankee Addicts
Categories
Featured Sponsors
News published by
April 26, 2011
We're just days away from the National Football League's annual April draft where all of football fans will get a glimpse at the building blocks for their franchise for years ...
April 8, 2011
This week the Dallas Cowboys started inviting players from the 2011 draft to pre-draft visits at Valley Ranch. NFL teams are allotted up to 30 players for these visits. If history ...
April 7, 2011
You have to be careful when criticizing cornerbacks since a lot of their miscues aren't entirely their fault. However, Mike Jenkins might just be the worst starting cornerback in the ...
April 5, 2011
Dallas will have at least 30 prospects visit Valley Ranch within the next two days as a part of their national visits. None of them are named Cam Newton. Ever ...
March 28, 2011
Dez Bryant has learned many new things in his rookie year, but it seems like the one thing he hasn't learned was how to stay out of the negative spotlight. According ...
March 7, 2011
We're gathered here today to mourn the death of the latest football craze: the wildcat offensive formation. Let's be honest. This is a copycat league; we all know it and acknowledge ...