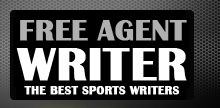 Yankee Addicts
Categories
Featured Sponsors
News published by
June 20, 2010
Everyone can finally breathe easy, because DE/DT Richard Seymour signed his tender —which if you didn't know is a very good thing. Some worried that after trading our first round pick ...
June 3, 2010
O.J. Atogwe is a free agent safety who recently parted ways with the St.Louis Rams. He joined the league in 2005 with the Rams, and since then he murdered his wife ...
May 29, 2010
LenDale White was recently released by the Seahawks who just acquired him in a draft day trade and now he's a free agent. You may be thinking, "We have Michael Bush, why ...
May 12, 2010
The Oakland Raiders defense, coming in to the 2010 season, has much versatility. In case you did not know what that means, here's a definition. Versatile: Capable of doing many things competently.  Our defense is definitely ...
March 17, 2010
Justin Fargas, son of Antonio Fargas (who was Huggy Bear in Starsky and Hutch), was born January 25th, 1980, in Encino, California. He attended Notre Dame High in Sherman Oaks, California. ...