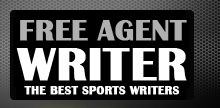 Yankee Addicts
Categories
Featured Sponsors
News published by
October 17, 2015
On Wednesday, I previewed the Buffalo Bills' matchup on Sunday with the undefeated Cincinnati Bengals. To knock off the Bengals, the Bills need to enter this weekend's game with clear-cut strategies ...
October 10, 2015
Rex Ryan and the Buffalo Bills, in what amounts to a must-win game, travel to Tennessee on Sunday for a matchup with Marcus Mariota and the Titans. The game, which ...
October 3, 2015
On Sunday, the 2-1 Buffalo Bills host the 1-2 New York Giants in a game of underappreciated importance. While the Giants will look to build on their first victory of ...
September 26, 2015
For the Buffalo Bills, Sunday's matchup in Miami marks a critical early-season test. It's only Week 3, but the 2-0 New England Patriots are playing a weak Jacksonville Jaguars team, and ...
September 19, 2015
The New England Patriots travel to Buffalo on Sunday, taking on the Bills in a matchup of 1-0 teams with legitimate AFC East title hopes. For Buffalo, a squad coming ...
September 12, 2015
The Buffalo Bills host the Indianapolis Colts on Sunday, in a Week 1 matchup of last year's second-best defense and sixth-best offense. I previewed the game earlier this week; in ...
August 26, 2015
The Buffalo Bills, coming off an 11-10 road victory against the Cleveland Browns last week, will host the Pittsburgh Steelers on Saturday afternoon in Buffalo, New York. Now 1-1 in the preseason, the ...
April 28, 2015
The NFL draft is now just two days away, and experts from ESPN and Bleacher Report continue to speculate. Will off-field issues send Randy Gregory and Shane Ray plummeting out of ...
April 17, 2015
The Buffalo Bills made plenty of noise this offseason. They signed one of the league's best running backs in LeSean McCoy; they brought in arguably the league's best defensive coach ...
April 11, 2015
The Buffalo Bills have a new, highly regarded head coach in Rex Ryan. They have a dynamic running back in LeSean McCoy and a blossoming star in wide receiver Sammy ...