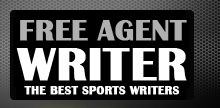 Yankee Addicts
Categories
Featured Sponsors
News published by
April 14, 2010
The Miami Dolphins have finally found a true No. 1 wideout in two-time Pro-Bowler Brandon Marshall. The Dolphins sent two second-round picks, the 43rd pick this year and another in ...
April 11, 2010
The 2009 season for the Miami Dolphins looked promising due to their previous season's record of 11-5, but due to injuries and bad defensive play, Miami fell to 7-9. This offseason, ...
April 7, 2010
Miami Dolphins great Jason Taylor is currently visiting the New York Jets. If you are a Dolphin fan, that alone will twist your gut and create nausea. After many ignored ...