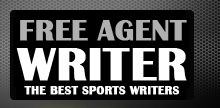 Yankee Addicts
Categories
Featured Sponsors
News published by
September 17, 2010
In an interesting article off the Chargers website, I couldn't help but note the irony. The Jaguars will be playing in a blacked-out game this season. It will just not ...
September 6, 2010
Greetings all, football is just one week away and for all you Jaguars fans out there you know what time it is... Tebow Time! Ok just kidding, actually it is time for ...
July 28, 2010
In part one, we had a review of what the Jaguars pluses and minuses were from the end of last season. While there were some definite arrows pointing up, there ...
July 23, 2010
It's a new year for Madden and now its time for an old tradition were we lament things about the game that EA will never change. Let me start by ...