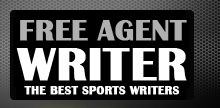 Yankee Addicts
Categories
Featured Sponsors
News published by
February 5, 2013
With the 2013 free-agency period set to begin in March, the Buffalo Bills have a glaring hole at the wide receiver position. General manager Buddy Nix has pointed out that ...
July 18, 2012
If the Buffalo Bills expect to be legitimate playoff contenders in 2012, the defense will have to drastically improve over its 2011 performance. Overall, the defense was ranked 26th in 2011. If ...
July 11, 2012
Buffalo Bills fans have to be proud of the front office in Orchard Park as of late. The Bills finished at the bottom of the AFC East once again with ...
July 10, 2012
The Buffalo Bills rushing attack was surprisingly effective last season, ranking 27th in rush attempts with 391 and a respectable No. 13 ranking in yards, with 1,921.Fred Jackson was the ...
June 23, 2012
The Buffalo Bills have their fair share of players who may have their jobs on the line this season. Ever since the influx of draft picks and free-agent acquisitions, players ...
June 23, 2012
The Buffalo Bills had an impressive offseason, adding quality depth at positions of need, including defensive end, linebacker and offensive line. However, the remaining question is, which of the wide receivers not named ...
May 26, 2012
The Buffalo Bills made a lot of moves this offseason, most notably upgrading their defense with the additions of Mario Williams and Mark Anderson. They signed quarterback Vince Young to ...
May 26, 2012
In the sixth installment of my "Predicting the Bills' breakout players of 2012″ series, I'll take a look at cornerback Aaron Williams.The Buffalo Bills selected Aaron Williams out of Texas ...
May 9, 2012
As of now, the Buffalo Bills currently have 10 linebackers on their roster. However, that number is sure to shrink throughout training camp as players fight for playing time. While ...
May 8, 2012
In the first installment of "Predicting Bills' Breakout Players of 2012," I'll take a look at second-year inside linebacker, Kelvin Sheppard.The Buffalo Bills selected Kelvin Sheppard in the third round ...