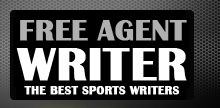 Yankee Addicts
Categories
Featured Sponsors
News published by
July 28, 2012
While reviewing the sports news of the day, I stumbled onto an article written by Mary Kay Cabot of The (Ohio) Plain Dealer. The article appeared in the Cleveland.com website ...
February 6, 2011
The Green Bay Packers and Pittsburgh Steelers will face each other in Super Bowl XLV in Dallas, Texas. I am willing to predict a victory for the Green Bay Packers. ...
October 5, 2010
Before writing this article, I had to gather my feelings on what transpired since it is a sad day. The result was a personal reflection. The program "Wide World Of Sports" ...
March 16, 2010
I decided to write about the worst NFL Free Agent signings after reading an article by Mark Novak about the same subject. It was not an easy subject but Mike ...
February 17, 2010
The 2010 NFL Draft is coming soon, and many teams are jockeying for position to acquire the best players for their team. Jason Campbell, quarterback for the Washington Redskins, has ...