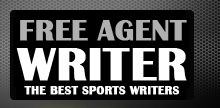 Yankee Addicts
Categories
Featured Sponsors
News published by
April 1, 2010
The draft is almost 20 days away, fans are getting anxious, and questions for the Buffalo Bills are still in the air. Who will be playing QB? Who ...
March 23, 2010
I woke up this morning and did the daily routine. Take a shower, eat some breakfast, and check ESPN for some Bills news...if there is any. Low and behold when ...
March 2, 2010
Welcome, every football fan, to that time of year where you feel like a five-year-old on Christmas morning. With free agency set to take place on Friday, round the clock ...