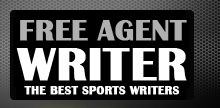 Yankee Addicts
Categories
Featured Sponsors
News published by
June 29, 2013
Jason Witten may very well be a first ballot Hall of Famer by the time his career wraps up. He is the consummate professional and team player in addition to ...
June 28, 2013
The Dallas Cowboys and their fans have known about most of their shiny new toys since the NFL draft back in April. But sometimes the greatest joy on Christmas morning ...
June 25, 2013
The Dallas Cowboys finished second in scoring in 2007, Jason Garrett's first year as offensive coordinator. New England finished first that year. Since that time, New England has finished at, ...
June 8, 2013
The Dallas Cowboys love Dwayne Harris, but Victor Cruz has little in common with this third year back- up receiver. Cruz is a Pro Bowler, a Super Bowl Champion and ...
June 4, 2013
 Dallas Cowboys' newly-signed tight end Dante Rosario caught three touchdown passes for San Diego in a single game last year. That equals Jason Witten's touchdown total for the entire 2012 ...
June 1, 2013
Dallas Cowboys fans may have missed it, given their level of grief about their team's final game. Many NFL fans would be excused from missing it, given that Dallas missed ...
January 19, 2013
The Dallas Cowboys are finally considering offensive renovations that many had hoped for years ago. As popular as the cliche' may be that the NFL is "a copy cat league", ...
September 8, 2012
The Cleveland Browns have no chance whatsoever against the Philadelphia Eagles, if most NFL pundits are to be believed. But those same pundits very smugly and assuredly stated the same ...
August 29, 2012
Chris Cooley was recently released by the Washington Redskins in a cost-saving move that will have many teams scrambling to sign his services.Cooley was a quality tight end for Washington ...
August 4, 2012
The Dallas Cowboys have puzzled their most serious fans for months now with their lack of urgency about finding a quality center for their offensive line. Many pundits had them ...