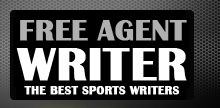 Yankee Addicts
Categories
Featured Sponsors
News published by
March 7, 2012
OK, I'm officially on the Peyton Manning bandwagon. Although I have been very vocal about using caution when signing anyone with a record of neck injuries, I decided it's worth the risk. ...
June 24, 2011
With an NFL season looking more and more like a reality, fasten those seatbelts, because we are about to go from a state of total inactivity and fan apathy right ...
April 1, 2011
With NFL Draft time soon approaching, I thought it would be interesting to look back at who I believe were Kansas City's best draft choices over the years Compared to ...
December 9, 2010
This is an exciting time of the year for Chiefs fans and I am certainly a diehard. There is an excellent chance that the Chiefs just might win the AFC ...
December 3, 2010
It's funny. Every year as soon as an NFL fan's favorite team is out of the playoff hunt, they immediately turn their attention to next year's Draft. Well Kansas City is ...
October 20, 2010
Well, the Chiefs have made it past their two toughest games of the year, having back-to-back contests with Indianapolis and Houston on the road. It would have been nice if they ...
May 19, 2010
Someone once said that a team is only as good as its drafts. Drafting is not brain surgery. Teams have refined their drafting approach by adding more scouts, extending budgets, and ...
May 7, 2010
Can anyone measure integrity and leadership with a numerical grade? How about a letter grade? The answer is probably not, but Scott Pioli takes this attribute very seriously. We all know ...
May 4, 2010
I have to admit that I dread entering this article, considering that all Chief fans know how weak the Chiefs Defense was this past year, but I think the following ...
April 27, 2010
Well, Scott Pioli isn't so hard to figure out after all. Do you know the feeling one gets when they finally understand the thought process of another human being? It becomes ...