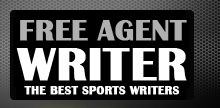 Yankee Addicts
Categories
Featured Sponsors
News published by
September 20, 2010
Everyone who watches ESPN knows about the ridiculous games the analysts do on their infinite number of NFL talking heads shows.Challenge Flag. C'mon Man. Other C-words that can only be ...
September 4, 2010
Ladies and gentlemen, you are all currently looking at the projected No. 1 draft pick in many a fantasy league. Also, you are looking at the best-looking man with gold ...
August 3, 2010
Many people would have read this headline in the past and immediately sent Bleacher Report a letter about heresy on their website. But in the 2010 NFL season, there's a different ...
July 27, 2010
Terrell Owens has tried everything to get into the spotlight. Sideline outbursts—VH1 shows—Throwing teammates under the bus. So it comes as no surprise that NFL fans have lost a lot of respect ...
July 23, 2010
The city of Cleveland has gone through a lot of sports misery. The Catch. The Shot. The Drive. The "King." Clevelanders must hate YouTube. As NFL Training Camp gets started Friday, the city ...
July 21, 2010
Chad Ochocinco has an eccentric personality, and everyone knows it. He's clearly athletic, and has everything a girl could ever want. That's why VH1 thought it would be good to give ...
July 20, 2010
Everyone knows NFL Live should be banned from television from March through August. And with Chris Johnson inking a new deal, Adam Schefter's getting nervous about his diminishing airtime. Profootballtalk.com reported that ...
July 16, 2010
Terrell Owens loves the spotlight. He wants attention more than a toddler. And for some reason, the media keeps giving it to him. As the NFL offseason rolls on and the summer ...
May 26, 2010
Words that come to mind when talking about Chris Johnson: fast, funny, cocky, skilled, fast. Words that Bud Adams needs to add to that list: elite NFL running back. And as an ...