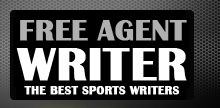 Yankee Addicts
Categories
Featured Sponsors
News published by
April 14, 2015
Defensive end Lamarr Houston's first season in Chicago was a bumpy one. His early 2014 exit has left him as somewhat of a forgotten name right now, and he's certainly the Bears' ...
April 7, 2015
The NFL draft comes to Chicago April 30. The hometown team certainly has a multitude of options after using a "prove it" approach for the bulk of its free-agent signings.  In ...
November 29, 2014
As the Bears' latest loss played out on national television against the Lions, it became clearer than ever this team isn't going to the postseason. Now with a quarter of ...
July 1, 2014
The practice squad is a special and key component in the NFL. It allows a team to still hang on to a player they like and allows the player to ...
September 19, 2012
It's early, but the 2012 season has not been without drama for the Chicago Bears. Two games in and the team has already had its share of controversy and turmoil. You ...
July 11, 2012
Maybe it's the lackluster playoff run for the Bulls and Blackhawks, or maybe it's the new general manager and all the toys on offense he has brought in, but it ...
July 4, 2012
The 2012 season figures to be an exciting one in Chicago. The team has improved its players, rid itself of the mad scientist on offense and gotten its star quarterback ...
June 27, 2012
One of the reasons why the NFL is so big in popularity is the explosion of fantasy football. If you're not thinking about how you are going to draft your ...
June 13, 2012
A while back, the topic of how the Chicago Bears could provide easy fixes to the offensive line was discussed. The situation still hasn't resolved itself. New offensive coordinator Mike ...
June 6, 2012
The Bears will open training camp at the end of July with high expectations. The team will look to put last season's disappointing turn of events in the rear view mirror. ...