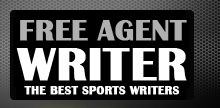 Yankee Addicts
Categories
Featured Sponsors
News published by
August 24, 2010
Over the course of last season many criticized the Kansas City Chiefs for forcing a 3-4 scheme on a defense that was comprised of personnel ideal for the 4-3. However, in ...
June 7, 2010
With the majority of pieces in place, fans can begin to discern what portrait the puzzle makes.  Some key off-season acquisitions are sure to change the makeup of Kansas City's ...
May 8, 2010
The countdown to 53 begins.  An all-state athlete in high school, respected by your peers at the college level, and struggling to earn a single snap in an NFL game.  Such is ...
April 9, 2010
As fans get amped in the final countdown to the 2010 draft, it's no stretch to imagine the Kansas City front office looking to the quarterback class of ...
March 29, 2010
While I am usually opposed to playing in the hypothetical world of mock drafts, it is intriguing to explore what talent is available to Kansas City in the 2010 draft, ...
March 19, 2010
Mock drafts are silly guesses that mean absolutely nothing. As college basketball fans watch their NCAA brackets crumble under huge upsets, it only goes to show that even the most well-informed ...
March 16, 2010
Before Jamaal Charles burst onto the scene with a 108-yard rushing performance in week 10, Kansas City fans clamored for a revamped offensive line. Atrocious in protection, the offensive ...
March 12, 2010
Billy Kramer asks, "When's mommy coming back?" "I don't know, Billy.  Soon," Ted, his father, replies. "How Soon?" "Soon." "Will she pick me up after school?" "Probably.  And if she doesn't, I will,"  Ted insists. "What ...
March 4, 2010
While the term "Bargain Bin" carries a negative connotation, there is no doubt the unlimited benefit of finding draft day bargains. More affectionately known as "steals," or having great "draft value," ...
February 27, 2010
For the past several years, the first pick of the draft was as predictable as a sunrise in the morning.  Sometimes a team with the top pick will even work out ...