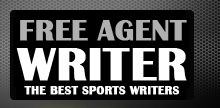 Yankee Addicts
Categories
Featured Sponsors
News published by
June 29, 2016
Heading into July, there's been a lull when it comes to the NFL offseason. Mandatory minicamps concluded about two weeks ago, and teams will begin heading to training camp soon. And ...
June 27, 2016
All NFL awards are subjective. The league recognizes the Associated Press' 50 voters when choosing an MVP, Offensive Player of the Year, Coach of the Year, etc. However, the NFL's Defensive ...
June 25, 2016
Call it a comeback? Not really. More like a reversal of fortunes. Here is a look at a combination of teams and performers who will bounce back in a big way ...
June 23, 2016
Under the gun. On the hot seat. Take your pick. Every offseason, there are your fair share of head coaching changes in the NFL. After this year's campaign, there will be ...
June 21, 2016
Are you ready for the summer? We're basically one month away from all 32 NFL teams opening training camp. Of course, the long days of hard work in the heat and humidity ...
June 18, 2016
The title says it all. There are eight divisions in the NFL, and this article includes each group's best defensive standout. It's a star-studded list that includes some of the ...
June 16, 2016
When it comes to this particular piece on youth and talent in the NFL, it's simple. There's no peanut butter without the jelly. No discussion of Forrest minus Jenny. You don't ...
June 14, 2016
Let's get one thing straight: All of us are aging. Consider the circumstances if the opposite was true. Listed here are more than a handful of veterans who have either turned 30 ...
June 8, 2016
In this time of 24/7 observation in sports, is there really a secret weapon in regards to personnel in the NFL? It all depends on the definition. How about a new ...
June 6, 2016
The prized acquisitions of the last few months of NFL offseason activity go on display Tuesday, June 7, as seven teams begin their mandatory three-day minicamps. The other 25 clubs will ...