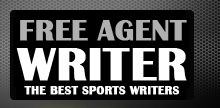 Yankee Addicts
Categories
Featured Sponsors
News published by
November 12, 2010
Chad, What has happened to us?  I feel like I don't know you anymore.  I know we have had our differences over the years, but who doesn't? When I first moved to ...
August 9, 2010
Remember back in kindergarten when you didn't receive an actual grade? "S" was the standard mark for a satisfactory performance, basically meaning you knew your name and didn't eat paste ...
March 9, 2010
  I have not been avoiding the topic of Terrell Owens possibly becoming a Cincinnati Bengal.  I simply have not had time to offer my thoughts on whether or not he ...
March 2, 2010
Well, it's official. When rumors started flowing yesterday afternoon, I tried not to get sucked in. Several websites reported the news. The social networking world was all atwitter (see what I ...