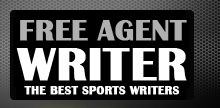 Yankee Addicts
Categories
Featured Sponsors
News published by
June 3, 2010
All journeys end at home. Brett Favre is an expiring star. He's also an eternal beacon. After three consecutive farewell seasons, the Packer-turned-Jet-turned-Viking is mulling another revision to his ...
May 27, 2010
Conviction is self-sustaining. Tim Tebow is a rookie quarterback. He's also a veteran Christian. After a heavenly career at the University of Florida, the newest Denver Bronco faces a trial by ...
April 22, 2010
Every choice is a leap of faith. Sam Bradford is a promising ballplayer. He's also, obviously, a potential bust. On the eve of the 2010 NFL Draft, the former Oklahoma Sooners ...