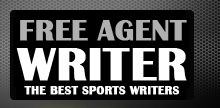 Yankee Addicts
Categories
Featured Sponsors
News published by
January 21, 2015
Let's be honest: A 4-12 team does not have a whole lot of pieces worth keeping—especially with a new general manager and head coach coming to town.  The Jets are much ...
January 13, 2015
Over the coming days and hours, the New York Jets will be making a decision that will impact their franchise for years to come: hiring a head coach.  Entering the third ...
December 24, 2014
"Cornerback for the New York Jets" has been about as steady a job title as a retail worker during the holiday season, but the constant turnover in the secondary has ...
December 17, 2014
2014 has not been a smooth year for the New York Jets' rookie class, including that of its prized first-round selection, safety Calvin Pryor. The "Louisville Slugger" has been in and ...
November 19, 2014
Michael Vick's insertion into the starting lineup has been more refreshing than a Fresca on a hot summer day. The New York Jets are sustaining drives, not turning the ball ...
October 29, 2014
The New York Jets' season is all but over, but they still have jobs, paying fans and pride to play for—which is why veteran Michael Vick will resume duties as ...
October 15, 2014
Injuries at the Jets' cornerback position can only be described as epidemic at this point. With Dee Milliner now out for the remainder of the season with an Achilles injury, the entire ...
October 1, 2014
Following their third consecutive loss, there is no bigger conversation surrounding the New York Jets than the status of Geno Smith as the starting quarterback. After starting the season on a ...
September 17, 2014
"Momentum" has been pegged as the scapegoat for the New York Jets' monumental collapse against the Green Bay Packers last week, but there is another tangible factor from Sunday's game ...
August 20, 2014
More than any other year under Rex Ryan's leadership, there are going to be a ton of tough cuts to be made by the Jets brass at the conclusion of ...