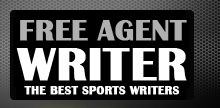 Yankee Addicts
Categories
Featured Sponsors
News published by
March 24, 2011
As we inch ever closer to a lost 2011-12 NFL season, I've found myself pondering what exactly I would do without being able to watch my Atlanta Falcons attempt to ...
February 11, 2011
While the 2008 offseason may have been the most important in Atlanta Falcons franchise history in terms of preventing it from collapsing, the organization now has a formidable task at ...
January 25, 2011
For the Atlanta Falcons, the Senior Bowl is of particular importance.Many of the best players in college football declare for the draft immediately upon becoming eligible and often get taken ...
January 21, 2011
Speaking on Jim Rome is Burning, Atlanta Falcons tight end Tony Gonzalez confirmed he will be returning for the 2011 season. Though clearly not what he once was, Gonzalez still ...
January 2, 2011
The Atlanta Falcons had their first opportunity to clinch the No. 1 seed last Monday night against the New Orleans Saints. As most know by now, they failed in that attempt, ...
December 28, 2010
New Orleans Saints quarterback Drew Brees just gave his team a 17-14 lead with a touchdown strike to tight end Jimmy Graham.A little earlier, I had written about how the ...
December 28, 2010
New Orleans Saints quarterback Drew Brees has now thrown interceptions on consecutive drives.His first pick of the night was returned by Atlanta defensive end Chauncey Davis for touchdown, giving the ...
December 28, 2010
Roddy White, the Atlanta Falcons star receiver, had had a number of big plays to win games this season.For his team to win and lock up the NFC's No. 1 ...
December 20, 2010
In beating the Seattle Seahawks, 34-18, the Atlanta Falcons had possibly their most dominating performance of the season. Matt Ryan completed 20 of 35 passes in the game for 174 yards ...
December 16, 2010
The Atlanta Falcons have played 13 games this year and have provided their fans with plenty to talk about along the way.It's been a fun and exciting season that could ...