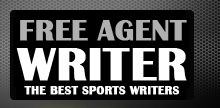 Yankee Addicts
Categories
Featured Sponsors
News published by
May 20, 2014
Now that the NFL draft is behind us, it is time for fantasy football nuts to start breaking down the rookies. Here's the LestersLegends' look at the 2014 NFL rookie ...
August 31, 2013
The smell of football is in the air. Here are the LestersLegends 2013 Week 1 fantasy football tight end rankings. . 1. Jimmy Graham, New Orleans Saints vs. Atlanta Falcons Graham ...
July 16, 2013
Michael Floyd was virtually non-existent for the Arizona Cardinals through the first 16 weeks of the 2012 NFL season. He blew up to the tune of eight catches for 166 yards and a ...
July 2, 2013
Even with training camp looming, the NFL feels more like an episode of Law & Order. While Aaron Hernandez is making the headlines with his murder charges, I shift the ...
June 25, 2013
With Reggie Bush moving on to the Detroit Lions, there is an opportunity for somebody to pick up that lost production for the Miami Dolphins. Last year, Bush had 262 ...
May 28, 2013
It's hard to get too excited about a wide receiver that finished with 11 catches for 156 yards and two touchdowns. After all, that's a typical Sunday afternoon for the ...
May 14, 2013
Obviously, a brilliant Pro Bowl appearance is not a good measure of future success, but Kyle Rudolph's five catches for 122 yards and a touchdown en route to the MVP ...
December 12, 2012
Evidently Green Bay Packers quarterback Aaron Rodgers has his fantasy owners at a tipping point. After his fourth straight mediocre performance, there are many fantasy owners making alternative plans for ...
November 30, 2012
At the beginning of the year, Matt Ryan was doing a Drew Brees impersonation.Through his first five games, Matty Ice had 13 touchdowns and three interceptions. He threw multiple touchdown ...
September 12, 2012
With an exciting first week under our belts, here are the LestersLegends 2012 Week 2 fantasy football running back rankings.1. Arian Foster, Houston TexansHe gave owners a little scare before ...