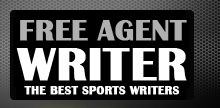 Yankee Addicts
Categories
Featured Sponsors
News published by
January 8, 2017
With two NFL playoff games wrapping up Saturday, we're another step closer to knowing the full 2017 NFL draft order.  According to Sports Illustrated's Chris Burke, the Detroit Lions loss locked ...
January 4, 2017
After 17 weeks of regular-season football, we've finally reached the playoffs. While playoff football is usually an exciting time of year, the major storyline on Wild Card Weekend is more about ...
January 2, 2017
It came down to the last game of the season, but the NFL playoff picture is now set.  The New England Patriots and Kansas City Chiefs earned the first-round byes in ...
January 2, 2017
The 2017 NFL draft order is now set for the 20 teams that failed to advance to the playoffs. The Cleveland Browns wrapped up the No. 1 pick, but it certainly ...
December 31, 2016
Entering Week 17 of the NFL season, 10 of the 12 playoff teams are already locked in. At first glance, this gives us relatively little drama for the final weekend ...
December 31, 2016
We haven't even reached the College Football Playoff yet, but we have already been treated to some stellar bowl performances by some of the top prospects in the 2017 NFL ...
December 30, 2016
As the 2016 NFL season winds down, many players are focused on the playoffs or their offseason travel plans. But for the 2017 free-agency class, new contracts are at the ...
December 29, 2016
It's been a wild ride down the stretch for teams in the NFL playoff picture. As recently as last week, there were still eight playoff spots up for grabs.  But the ...
December 28, 2016
We're just one week away from knowing the order of the top 20 picks in the 2017 NFL draft. While the teams drafting near the top have long since been eliminated ...
December 27, 2016
Week 16 of the NFL season provided plenty of drama for those following the race for the No. 1 pick in the 2017 NFL draft.  The Cleveland Browns' win over the ...