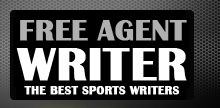 Yankee Addicts
Categories
Featured Sponsors
News published by
April 18, 2015
Since the year of the first NFL draft ever, less than 25,000 prospects have ever been drafted into the NFL. Since that time, both NFL front-office executives and fans alike ...
March 14, 2015
The 2015 NFL draft class has plenty of talent deep into the middle rounds, but it lacks undeniable superstar appeal in the top half of the first round. Instead of an ...
February 28, 2015
With free agency looming just around the corner, NFL teams will be seeking a quick fix to their team-building problems and look to catapult themselves into Super Bowl contention. We ...
January 25, 2015
After a week of practices, media events, psychological tests and interviews with scouts, about 100 of college football's elite seniors and graduated juniors finally hit the field on Saturday for ...
December 27, 2014
We're at a point in the NFL season when a number of teams have little left to collectively fight for, except maybe the all-too-familiar pride. But why do teams that ...
December 13, 2014
It's a tough transition going from college to the pros. Trust me, I've been there personally, and the difference in competition between the two is literally terrifying. This is why ...
December 6, 2014
With Robert Griffin III now relegated to the bench for a combination of poor timing and decision making with both his arm and mouth, it now opens the door to ...
November 29, 2014
The NFL is one of the most unstable environments in professional sports. Players come and go because of the rigorous wear and tear their bodies endure. Players in their first and ...
November 22, 2014
This Sunday the (1-9) Jaguars will face the AFC South's first-place (6-4) Colts heading down the final stretch of the regular season. As the Jaguars prepare to match points with Andrew ...
November 15, 2014
We're now 11 weeks into the NFL season and by now we have a pretty good idea which teams are lousy and which ones can ball. What most of us ...