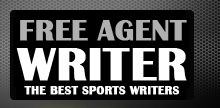 Yankee Addicts
Categories
Featured Sponsors
News published by
September 26, 2012
This is a loaded question, but my answer is no.Before the Week 3 beat down of the Carolina Panthers, Eli Manning was getting some heat for his performance against the ...
May 9, 2012
Some New York Giants veterans need to be on notice this coming season. They may not lose their jobs, but they better pick up their play.Players can lose their jobs any ...
July 30, 2011
This is just getting sad. It's obvious that no one wants any business with Tiki Barber. All he's doing now is embarrassing himself and wasting his time. He's the New York Giants all-time leader ...