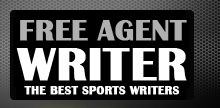 Yankee Addicts
Categories
Featured Sponsors
News published by
February 8, 2011
What better time to make a 2011 NFL Mock Draft then right after the Super Bowl? All the picks are now in place and it's time to see how many ...
February 7, 2011
It only took a few years. A few years for Aaron Rodgers to win Super Bowl XLV MVP. Not only that, he shut up everyone who doubted him and, most of ...
January 24, 2011
When the going gets tough, the tough get going. Clearly, that's not a phrase Cutler lives by. Chicago Bears' quarterback Jay Cutler did one thing that should never happen, quit on your ...
January 17, 2011
With the NFL's divisional round concluded, it seems more like the winners were avenging previous losses. Each game was a rematch of a regular season matchup. No matter what game you ...
January 12, 2011
The Georgia Dome will be causing gigantic seismic shocks come Saturday. The crowd will be electric and causing disruptions with offense.It's going to be a tough, uphill battle for the ...
January 11, 2011
Nnamdi Asomugha was released this weekend and already we're having rumors of where he will end up. According to San Francisco Chronicle reporter David White, he will likely end up ...
January 10, 2011
With the conclusion of the Packers-Eagles game, there were some things that we learned from Green Bay's win. They started off quickly and, in the second half, died out relatively quickly. The Packers ...
January 6, 2011
What began as a high expectation season for the Green Bay Packers quickly took a turn for the worst. In the first game of the season starting running back Ryan Grant ...
December 29, 2010
It's been almost 20 years since the now famous Brett Favre's name was called in the 1991 NFL Draft. Now 10,169 pass attempts later and a 298 consecutive starting streak over, ...
December 6, 2010
The Minnesota Vikings' 2010 season can be described as nothing else then a terrible collapse. A team that was predicted to make it as far as the Super Bowl epically ...