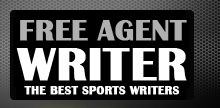 Yankee Addicts
Categories
Featured Sponsors
News published by
September 6, 2010
A new head coach. A new quarterback. A disgruntled defensive lineman with a $100 million contract. A 4-12 season in 2009. It sounds like the makings for a complete disaster. But ...
August 15, 2010
Lawrence Taylor, the former New York Giants hall-of-fame linebacker, is set to speak at a campaign rally for Democratic Nominee for the South Carolina U.S. Senate Seat, Alvin Greene.  Greene, a ...
April 24, 2010
Since 1969, there have been very few opportunities for New York Jets fans to smile.  Especially considering it's the weekend of the draft. Marty Lyons, Lam Jones, Ron Faurot, Roger Vick, Blair ...