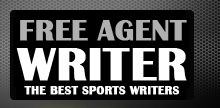 Yankee Addicts
Categories
Featured Sponsors
News published by
March 30, 2011
The NFL season is over, and now teams can focus on building their teams through the NFL draft. Although, you could say players and owners trying to reach a settlement ...
March 23, 2011
The NFL Draft is just about a week away. The NFL is being locked out and will meet soon in Minneapolis to try and settle its differences between the players ...
December 14, 2010
The Denver Broncos are fading, and now it's time to see what Tim Tebow can do in the NFL. After all, he was a first round draft pick, and was ...
September 30, 2010
The Green Bay Packers lost their first game of the season last Monday night against the Chicago Bears, 20-17. This week they'll look to get on the right track as ...
August 29, 2010
The Green Bay Packers are ready for the 2010 season to get underway and are primed for a special season. Last year their season ended on a bitter note, as the ...
July 27, 2010
Dez Bryant just agreed to a five year deal with the Dallas Cowboys. He will be in camp and was present when the Cowboys reported last weekend. This demonstrates his ...
April 14, 2010
The 2010 NFL Draft is two weeks away, and draft talks are heating up around the National Football League.  The Green Bay Packers are a Super Bowl type team, and just ...