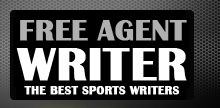 Yankee Addicts
Categories
Featured Sponsors
News published by
August 6, 2011
ESPN recently unveiled its new Total Quarterback Rating (QBR), a new metric to measuring a quarterback's performance—unapologetically leaving "passer rating" in the dust. The worldwide leader did not reveal the ...
April 23, 2011
"If we end up staying at where we're picking, we are going to get a good football player. There are six guys and we are going to get a ...
May 5, 2010
  One reason I love Browns fans: We are always so hopelessly optimistic about our teams, despite what rational reasoning tells us. Finish a season at the bottom of the barrel? ...