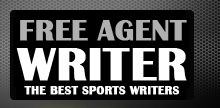 Yankee Addicts
Categories
Featured Sponsors
News published by
January 11, 2015
The New England Patriots looked to advance to yet another AFC Championship Game when they took on the Baltimore Ravens. The Patriots were the class of the AFC in the ...
February 8, 2011
We've got the Aaron Rodgers Letterman video for you today, after the Super Bowl MVP made an appearance on The Late Show the day after making an appearance in a victory ...
February 4, 2011
Super Bowl Commercials Always Fun, But Where Will 2011 Rank? With Super Bowl XLV just two days away and many of the football storylines already being thoroughly covered, attention has begun ...
February 4, 2011
Green Bay Packers' Cullen Jenkins' Dad is Safe; Will Jenkins Deliver an MVP-Caliber Performance?Cullen Jenkins has spent most of this week worrying about his father. The Green Bay Packers' star ...
February 4, 2011
Super Bowl XLV is just two days away from kickoff, but that doesn't mean we've run out of things to talk about; in fact, the NFL is rife with news, ...
January 28, 2011
Super Bowl 2011: Can Green Bay Slow Big Ben, Steelers? The Pittsburgh Steelers were one of the most successful teams in the NFL during the 2010-11 season. Their defense was sturdy, ...
January 28, 2011
Super Bowl 2011 is just days away, and one of the biggest stories of the week is the Packers' offense. After all, Green Bay has generated no fewer than 21 ...
January 28, 2011
2011 NFL Mock Draft: Is Nick Fairley the Right Choice For Carolina? With just a couple months left until the NFL Draft, it's time to take a look at some of ...
January 28, 2011
Good morning, and welcome to your daily dose of NFL news! From Jeff Fisher getting the axe to a look at the NFL Draft and Super Bowl XLV, we've got ...
January 24, 2011
The Jay Cutler injury has caused quite a bit of buzz across the sports world today, and with good reason. After all, it's not every day that a quarterback who is ...