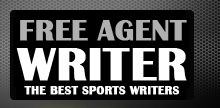 Yankee Addicts
Categories
Featured Sponsors
News published by
February 21, 2011
The Seahawks' defense was up and down, much like the offense, in 2010. It's understandable when switching to a whole new defensive scheme (and it is quite different). The Seahawks ran ...
February 1, 2011
The Seattle Seahawks' offense was a case of Dr. Jekyll and Mr. Hyde in last season. One week, Marshawn Lynch would actually find the holes and open up the run game, at least ...
March 12, 2010
No. This is not a rant about the departure of Seneca Wallace. Or about any of the moves that the Seahawks have made. In fact, Seattle has stood rather pat ...
February 17, 2010
First things first: I do not want to put down Justin Forsett or his accomplishments. In fact, I think he could be a very solid and effective back in a zone ...