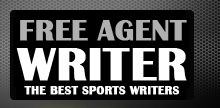 Yankee Addicts
Categories
Featured Sponsors
News published by
December 24, 2011
The Cleveland Browns dropped their second matchup with the Baltimore Ravens of the 2011 season on Christmas Eve, losing 20-14 and falling to 0-5 in the AFC North. The Browns and ...
August 13, 2011
Get ready, Browns fans! At long last, it's the moment we've all been waiting for since January: the first preseason game of the 2011 season.That also means it's time for ...
April 17, 2011
After waiting for what seems like an eternity, the countdown to the 2011 NFL Draft now stands at just 12 days. That means most of us have our picks for ...
April 6, 2011
The 2011 NFL Draft is fast approaching, and the Browns have their work cut out for them in finding players to fill the holes in their roster. Seems like a good ...
March 27, 2011
There are few worse labels an NFL player can be tagged with than "dead weight." Every team has its share of guys who don't get it done on the field ...
September 27, 2010
Other than perhaps those terrible flashbacks of The Drive that we all still have, there is nothing worse for a Browns fan that getting the opportunity to stick it to ...
July 20, 2010
With just 11 days remaining until training camp begins, expectations and excitement about the Browns are higher than they have been in years. The proverbial glass is finally half full ...
July 13, 2010
The Cleveland Browns have a rich history dating back to the franchise's establishment in 1946. Among the many great players to have donned the orange and brown are ten receivers ...
July 7, 2010
The 2010 NFL season is almost upon us, and the Browns are set to open training camp in Berea, Ohio, amid fevered anticipation. At long last, the team appears poised ...
June 29, 2010
With just over a month to go before the Browns first full-squad practice of 2010, Cleveland fans eagerly await the start of the Browns' most anticipated season since 1999. The ...